Final Days of START Leadership Retreat
The START Leadership Retreat Promotion ends 12/02/2018! Will we be seeing you in Peru?!
START members have stepped up to the plate, especially during the final few weeks of the competition! Be sure to check the START Facebook group for live leaderboard updates from Erik throughout the final days of the competition! This will be a close race for the Top 50, so keep pushing until the very end!
As a reminder:
The START Leadership Retreat will take place in Cusco, Peru, April 7th-11th! Join us in the land of ancient cities and renowned Inca ruins where we'll take an excursion to one of the new Seven Wonders of the World, Machu Picchu. During this once-in-a-lifetime opportunity, we will explore jaw-dropping views while fully immersing ourselves in local culture. Each day will be jam-packed with memorable excursions and learning opportunities. This trip is one for your bucket list – you won't want to miss out!
HOW TO QUALIFY AND EARN POINTS DURING THE QUALIFICATION PERIOD:*
STEP 1: Be a member of the START community (18-35 years old).†
STEP 2: Meet the minimum recognition rank of 3-Star Golden Circle (START 1000).
STEP 3: Achieve Paid-As Executive for a minimum of one week.
STEP 4: Be a top 50 point earner by enrolling new Customers and developing Personally Enrolled Associates. [All points accrued during the qualification period will count toward your final points for the promotion – as long as you achieve the minimum qualifications (Steps 1-3) at some point during the qualification period (Sept. 3–Dec. 2, 2018)].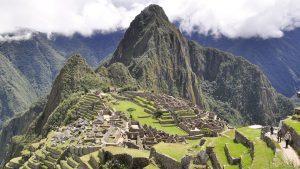 THE POINT SYSTEM:
1 point = for each new Personally Enrolled Customer with an initial product purchase of 100-149 BV.
2 points = for each new Personally Enrolled Customer with an initial product purchase of 150-199 BV.
3 points = for each new Personally Enrolled Customer with an initial product purchase of 200+ BV.
5 points = for developing a new Personally Enrolled first-time Consultant.
10 points = for developing a new Personally Enrolled first-time Manager.
15 points = for developing a new Personally Enrolled first-time Director.
20 points = for developing a new Personally Enrolled first-time Executive.
The top 50 point-earning businesses who meet the minimum qualifications will make it to Peru! Check your
points each week on the START Leadership Retreat leaderboards at STARTYourLife.com/Leaderboards. An
email will be sent to START members each week notifying them of how many points they have earned!
For current leaderboard standings, and promotion details, click here.
Healthy Giving Guide Launches
Earlier this month, Isagenix launched the Healthy Giving Guide which featured the launch of Salted Caramel IsaLean™ Shake, the IsaDelight Holiday pack as well as the launch of the brand new SeasonsJoy™ Essential Oil!
The Healthy Giving Guide also introduced the Holiday Bundle which includes:
• 1 Variety Pack of IsaDelight® chocolates.
• 1 bottle of SeasonsJoy™ Essential Oil Blend.
• 1 canister of Salted Caramel IsaLean™ Shake.
• 1 box of Vanilla Cranberry Almond IsaLean™ Bar.
• 1 canister of Raspberry Cheesecake IsaLean™ Shake
When you order your favorite seasonal items in the Holiday Bundle, you will receive a discount of US $39.95 / CA $44.95. That's like getting a canister of shake for FREE.
These items are expected to sell out soon! Stock up on your seasonal favorites and then share how you're incorporating them into your daily routine on social! Be sure to tag @Isagenix in your posts on Facebook on Instagram for your chance to be featured!
*Available in U.S., Canada and Puerto Rico only
START Transformation Spotlight
START member, Tiffany Desjardins, was stressed and feeling down after having her daughter. Since starting her 30-Day System, she has found great results and is living her best #IsaLife! Check out her story that she shared on the START Facebook group below!
"I gained a lot of weight while pregnant with my daughter and stopped going to the gym. Then once she was born, I encountered many obstacles and would stress eat to cope. I became that mama who didn't want to take pictures, until one day I decided that is no life to live. I was missing out on precious memories because of how poorly I felt inside and out.
"I decided to make a change for myself and my family. I got back into the gym and committed myself to two shakes a day and eating healthy. After my nursing journey ended, I started my 30-Day System and never looked back. Suddenly, I was a young mom full of energy and crushing personal goals.
"These days, I am still committed to following the 30-Day System and incorporate my favorite AMPED products into my gym routine. I reach new personal goals each month. Now, I am that mama who is proud to take pictures with her daughter. I am officially rocking the #IsaGlow, and I will be forever grateful for Isagenix!"
Amazing job, Tiffany ! Your hard work and dedication shines in your results!
We want to share your incredible transformations! Email us at STARTYourLife@Isagenixcorp.com
New START Success Story Available
Lara and Mark Bryce (Brycey) were looking for a way they could spend more time together instead of being separated for three weeks out of each month due to their corporate careers. Earlier this year, this powerhouse couple from the UK earned their spot in the START 1000.
Prior to starting their business, they were each working 40-60 hour weeks. Mark also worked away three weeks of every month so they would only see each other at weekends and one week each month. The couple felt constantly stressed because they never felt like they had enough time for each other.
They were somewhat familiar with network-marketing after working for a different company part-time. When they found out Isagenix was coming to the UK they were elated. Due to the success of their business, Mark was able to leave his job and join Lara to pursue Isagenix full-time.
To read more of Lara and Brycey's story, click here!
Want to suggest a START member for a Success Story highlight? Email: STARTYourLife@Isagenixcorp.com
Final START Leadership Retreat Calls Posted
The START Leadership Retreat Series concluded this month with brand-new trainings from our incredible START Ambassadors!
The training calls focused on a wide variety of topics to help set your business up for success and earn points in the START Leadership Retreat promotion! In addition to the weekly call series, START Ambassadors offered trainings in the START Facebook group as well as on the official START Instagram page.
This month,  START Ambassadors, James McLeod, Hayden Vavra, Gabrielle Deane and Claudia Tomczyk hosted two inspiring calls for START members to benefit from!
November's first call (which can be found here) featured James McLeod and Hayden Vavra. The two spoke on Retention and the Compound Effect.
Gabrielle Deane and Claudia Tomczyk concluded the START Leadership Retreat Call series by training on how to drive results. They offered helpful tips on how to create and maintain a social media schedule, as well as how to ramp up your business going into the holiday season. To catch the replay of their call, click here!
To watch all six of the START Leadership Retreat Calls, click here! Thank you to our incredible START Ambassadors for providing their leadership and insight throughout the series!
#GnomeForTheHolidays Contest Starts 12/1
We're giving away a year's supply of e+ shots!
You read that right! Between Christmas shopping, party hosting, and traveling, this time of year can be exhausting, but the Gnome+ is your holiday hero! Made using naturally sourced, plant-based caffeine and adaptogens, e+ helps you power through the season's busiest days.
For your chance to win a year's supply of e+, make your own Gnome+ using the template here. Then share a picture of your Gnome+ to social media! Snap a picture of your Gnome+ going on a road trip, hiding under the Christmas tree, or gift wrapped for your co-worker! We can't wait to see all the different places your Gnome+ will go this holiday season.
To have a chance to win, you must:
1) Follow the @Isagenix Instagram.
2) Like he #GnomeForTheHolidays post and tag 5 friends in the comments you want to share a Gnome+ with.
3) Share an image of your Gnome+ to Facebook or Instagram using the hashtag #GnomeForTheHolidays and tag @Isagenix.
Our #GnomeForTheHolidays sweepstakes goes until 11:59 p.m. Dec. 16 ET.
Chocolate Mint Protein Balls Recipe
Protein balls are the perfect treat to bring to your next holiday party and are a great alternative to sugary sweets. Our Chocolate Mint Protein Balls recipe uses IsaPro™ with each individual ball containing a whopping 7 grams of protein!
Feeling festive? Try adding a treat stick to the middle of each protein ball!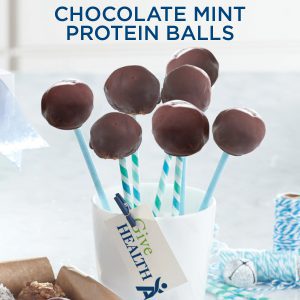 Chocolate Mint Protein Balls Recipe
2 Scoops Chocolate IsaPro
1 Cup Rolled Oats
1/2 Cup Almond Butter
1/3 Cup Puffed Brown Rice Cereal
1/4 Cup Agave Nectar
2 ro 3 Tbsp. Hot Water
14 Dark Chocolate with Mint Flavor IsaDelight Chocolates
Directions:
Line a sheet pan with wax paper. In a mixing bowl, place IsaPro, oats, almond butter, cereal, agave, and water. Stir until well combined.

Scoop rounded tablespoonfuls of the mixture, and roll into balls, placing them on the prepared sheet pan as you go.

Place chocolate in a microwave-safe bowl. Cook for 1 minute, and stir. If not completely melted, cook in 15-second intervals until completely melted. Dip each ball, one by one, into the chocolate to coat.

If the melted chocolate thickens, place it back into the microwave, and heat it for a few seconds.

Refrigerate uncovered until the chocolate coating hardens for about 15 minutes. Cover, and refrigerate for 1 to 2 hours before serving.

Tip: If you are making pops, place protein balls on sticks prior to coating to make it easier.
Check out Isagenix.com for more recipes like this and additional information about Isagenix products!
 START Top Income Earners for October
Their hard work, consistency and commitment to changing lives earned these 20 businesses a spot at the top!

Save the Date
Events are key when it comes to forming valuable connections and growing your Isagenix business! Check out some of the events coming up below to find an event happening near you or online! For even more event opportunities and online training dates, head over to the Community tab on our website to find out more!
January 9-12, 2019
Phoenix, AZ
Give Back Event @ NYKO
January 10, 2019
2-3 PM MST
St. Mary's Food Bank
Phoenix, AZ
START Social Hour @ NYKO
January 10, 2019
3:30-4:30 PM MST
The Duce
Phoenix, AZ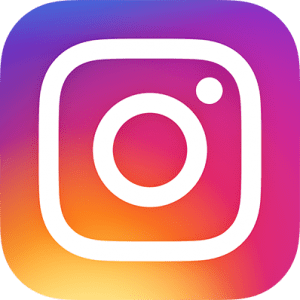 For the latest details about upcoming START training, community efforts and more, click here!
Follow Us on Instagram: @start_yourlife
Use the hashtag #STARTYourLife on all of your posts for a chance to be featured on the official START Instagram or STARTYourLife.com!