New Edition of #STARTYOURLIFE Magazine
The most anticipated START publication of the year has arrived! The latest edition of the #STARTYourLife magazine features inspiring stories of Isagenix Associates between the ages of 18 and 35 who are living lives nothing short of extraordinary all over the globe.  This issue is all about START members who are leading lives that fill them up and excite them to inspire readers to go out there and do the same. And you'll definitely want to catch features written by thought leaders such as Brené Brown, Darren Hardy, and Peta Kelly.
Learn how you can jump START 2017 using the new Magazine in this article.
START Vision Tour is Back!
Join Us May 1-4 in a City Near You
The START Vision Tour is the perfect event for new and prospective members to hear all about the Isagenix products and business opportunity, get an overview of the #startyourlife movement, and of course, experience our unique and uplifting Isagenix culture. Be on the lookout for all the info, including cities and dates, in future START Newsletters, the START Facebook group, and IsagenixEvents.com.
NYKO Recap
Give Back
At the first Give Back event of the year, START members from around the world came together and represented our movement's core value of contribution by serving locally in San Antonio. We had the incredible opportunity to visit Haven for Hope, an organization centered around solving the root causes of homelessness, while providing job training and employment readiness, education, behavioral health services, spiritual services, and more for men, women, and children experiencing homelessness. Our group of volunteers worked alongside Haven for Hope's members and other volunteers to help organize donations in the warehouse, as well as clean mats for the residents. Even more, many of our 80+ volunteers were able to connect with some of the residents, supporting the organization's mission to recognize and support each individual's potential and purpose.
We look forward to our next Give Back event at the Red and White Kick Off in Toronto next month – Stay tuned for more details!
Stage Recognition
Congratulations to the Top START Income Earners! These 20 businesses were recognized onstage for their hard work in front of thousands of New Year Kick Off attendees! The audience even heard up-and-coming START leader Mackenzie B., as she shared her powerful story, including the impact Isagenix and the #startyourlife movement has had in her life.
Congratulations to the Top START Enrollers for December!
Huge shout-out to the Top 10 Enrollers in the START group for the month of December! These 10 businesses are dedicated to sharing the Isagenix products and systems with others, are we are so proud of them for helping bring new members into the Isagenix family.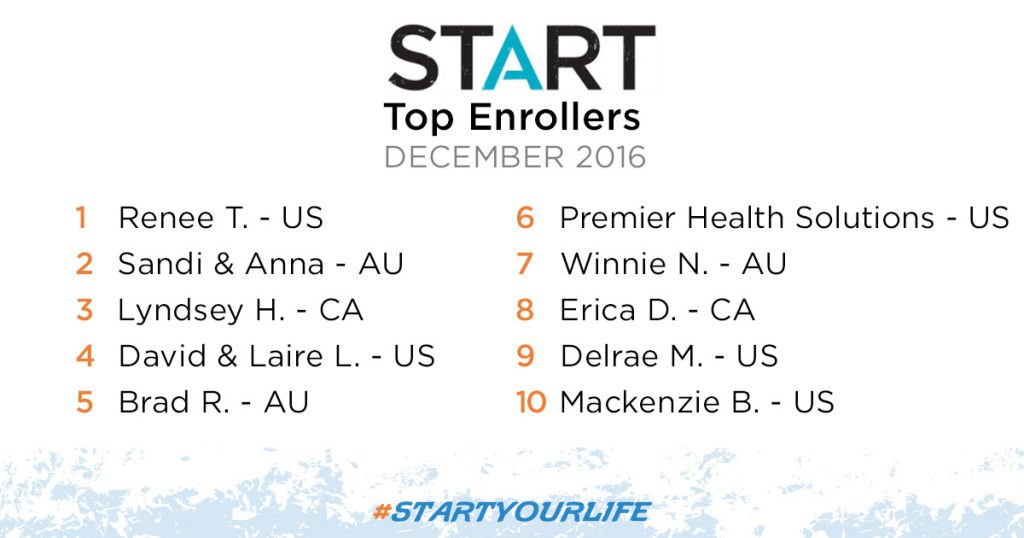 Keep sharing STARTers, we would love to see you recognized here in future months!
Newest START 1000s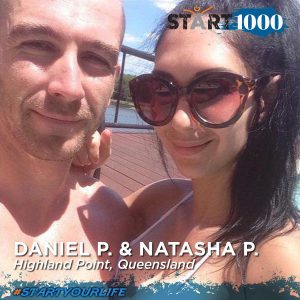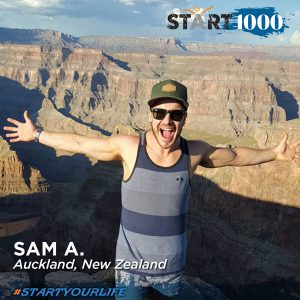 See a full list of our START 1000 here.
Upcoming Events
Zoom Calls
The next START Zoom Call will take place on Tuesday, February 7. Stay tuned to the announcements in the START Facebook Group for more details to come!
Red & White Kick Off
February 23-25 – Toronto, ON
ANZ Celebration 2017
March 9-12 – Brisbane, QLD
Isagenix University- Newark
March 30-April 1 – Newark, NJ
Follow Us on Snapchat & Instagram