April Community Challenge: Book Challenge April 5-26
For this month's Facebook Community Challenge, we encouraged members of our START Facebook group to purchase and read the book, Tribe of Mentors by Timothy Ferriss. The book explores several of life's larger questions such as: "What makes life meaningful?" and "What new belief or habit can change your life?" Ferriss interviewed elite achiever's from all over the world to get their expert advice on the subjects. Our START members took this challenge and ran with it! Below are some of the takeaways START Facebook members shared about the book:
"One of my biggest takeaways from this book was finding out how many successful people include these things within their daily schedules: journaling or keeping lists, and walking. I started implementing those two things and already noticed big difference in how much I can do during the day. Walking every day not only keeps me healthy but allows me to meditate on my day, my goals and plans for the future. I could go on and on with all takeaways, but now time to take massive action and implement what I learned! START 1000 here I come!"
– David T., Uni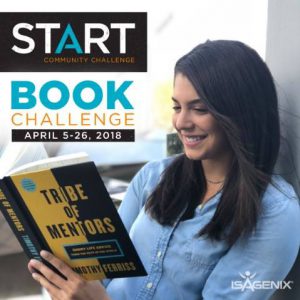 ted Kingdom
"My biggest takeaway would be from Jocko Willink which is discipline equals freedom! It has made me realize how living day by day without discipline makes a huge impact in the future. I'm already implementing this by getting up earlier than usual and getting exercise in and also to read at least 30 minutes in a day!"
– Fabian F., Malaysia
Thank you to everyone that participated in April's challenge! Be sure to check out the START Facebook page for May's challenge!
2018 #STARTYourLife Magazine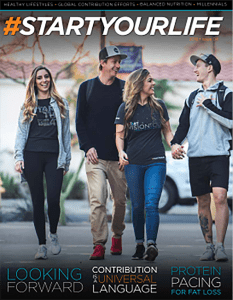 The 2018 #STARTYourLife magazine is here! The latest version of the publication provides a look into the lives of START members from all over the globe who are living out the vision of this movement. Inside, readers will find business and product success stories featuring Isagenix Associates in the START Group – celebrating their legacy, passion and fulfilment. This year's edition also highlights health, nutrition, giving back in the community and strategies for personal growth and leadership.
Purchase the hardcopy here, or view and share individual articles through the IsaSalesTools To Go app. In the app you'll see the digital articles, along with new social images and animated GIFs to share with the hashtag #StartYourLife. Together we can show the world what #StartYourLife really means and how it can change lives! You can also share these new tools via email, or SMS text with prospects one on one. When your prospect opens the tools you share, the app will notify you – which makes following up that much easier. Sharing the Isagenix culture and the START vision has never been easier.
Bedtime Belly Buster Challenge 
A popular Isagenix product bundle is expanding! Bedtime Belly Buster (BBB) is a sweet bedtime treat that combines IsaPro® with Isagenix Fruits or Isagenix Greens™ to satisfy late-night cravings. BBB will help you sleep better and burn stubborn belly fat. With the purchase of your bundle, you will also receive a free Bedtime Belly Buster for Dummies e-book and a bottle of Sleep & Support™ Renewal spray!
Start integrating BBB into your nighttime routine by following the steps below!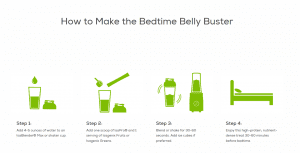 Be sure to use Sleep Support & Renewal™ spray immediately before bedtime to assist with a restful night's sleep!
—————————————————————————————————————————————
Newest START 1000 Members for April
START 1000 is an exclusive club of young Isagenix leaders ages 18-35 who are eligible to earn a six-figure residual income by maintaining the status of 3-Star Golden Circle & above. Congratulations to our newest members START 1000 members!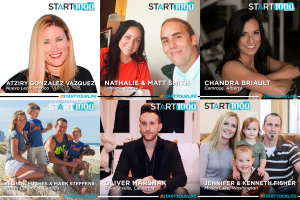 —————————————————————————————————————————————————————————————————————————————
START Top Income Earners for March
Their hard work, consistency and commitment to changing lives earned these 20 businesses a spot at the top!

 ____________________________________________________________________________________________________________________
Reminder: Global Give Back Day is May 19
Save the date! Global Give Back Day is May 19. We encourage you to get together with other Isagenix Members – of all ages – in your area to do some kind of community service or give back effort. This is an exciting opportunity to share the Isagenix culture and company values with others who are not yet Isagenix Customers. You can see highlights of past Give Back events by visiting our Contribution tab on STARTYourLife.com.. Encourage your teammates to share with us what they are doing to participate!
Local to the corporate office?
The corporate START team is hosting an event at Feed My Starving Children in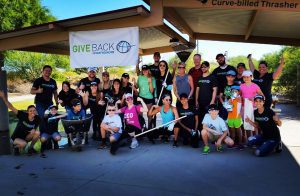 Mesa, AZ for Global Give Back Day and we would love for you to join us!
When: May 19, 2018 from 2:00-4:00 p.m.
Where: Feed My Starving Children
1345 S Alma School Rd, Mesa, AZ 85210
How: Sign up for this event by clicking on the link below:
https://volunteer.fmsc.org/Register/Group/JoinGroup.aspx?gid=1340758
**You must register using the sign up link above in order to participate in this activity. We have limited spots and they will be filled at a first come, first serve basis. After you register you will be emailed follow up communication from us that outlines all details and information you will need to know for the event.
If you have any questions, please email StartYourLife@IsagenixCorp.com
2018 START Party Location Revealed
Prepare yourself for a night filled with excitement during the START party at 2018 Celebration! This year, the START Party will take place at the World-Famous Wildhorse Saloon in Nashville, TN. Remember, you must reach Executive in order to receive an invitation to the START party. We look forward to seeing you there!
2018 START Party
August 5, 2018
11:00 p.m.-2:00 a.m.
Wildhorse Saloon
For the latest  details about upcoming START training, community efforts and more, click here!
Use the hashtag #STARTYourLife on all of your posts for a chance to be featured on the official START Instagram!