Congratulations to Our 2018 START Ambassadors!
At the Gala Awards at Global Celebration 2018, our newest START Ambassadors were named! These leaders have lived the Isagenix values, culture, and passion over and over again and have a burning desire to ignite all young people to own their lives physically and financially and through our contributions create freedom and a lasting legacy. As START Ambassadors, they lead this movement by example while giving their time and knowledge to help people all over the world create their own personal freedom and a lasting legacy. These elite leaders live to help others. Their dedication to collaboration and unity make them uniquely qualified to be the face of this movement!
These leaders are here to serve the START community! Keep on eye out on the official START social media accounts for helpful trainings, calls and takeovers provided by our new START Ambassadors!
Your new 2018 START Ambassadors are:
Abby and Dylan O'Neil – United States
Steve Pater and Carly Hewitt – United Kingdom
Chelsea Lauren – United States
Jeff and Rachel Briscoe – United States
Claudia Tomczyk – Australia
Llyod & Alisha – Australia
 Give Back Event at GROW Enrichment
Over 100 START members from around the world joined together on August 4th to give back to the Nashville community! Volunteers spent the day at GROW Enrichment completing a variety of projects to help improve and clean up a public wooded area used for educational purposes.
Ginger Rose, Executive Director & Co-Founder of GROW Enrichment thanked START members for their contributions and spoke about the importance leadership and sustainability skills that they possess. To watch Ginger Rose's thank you message, head over to START_YourLife on Instagram and click on our IGTV icon!
After hours of rewarding contribution efforts, Associates participated in the first-ever START Social Hour where they had the opportunity to network and grab food from some of Nashville's best food trucks.
Want to participate in the next START Give Back event? Keep an eye out in the START Facebook group and on the START Instagram account for details about Give Back opportunities at Isagenix events!
START 1000 Stage Recognition at Global Celebration 2018
On August 7th, 2018, START recognized a record-breaking 41 new START 1000 members on stage at Bridgestone Arena in Nashville, Tennessee! New members were welcomed on stage by current START 1000 members after the Share the Shot segment with Erik Coover. START 1000 members are individuals of the START community (ages 18-35) who achieve 3-Star Golden Circle—a rank that, if maintained, means they have the opportunity to earn a six-figure annual income with Isagenix.** Their success is fueled by a passion for our products, a dedication to helping others reach their goals, and a commitment to our values at Isagenix.
New START 1000 member, Heather Richmond (pictured above), inspired the crowd with her Isagenix story. Keep an eye out for Heather's START Success Story coming soon to learn more about her and how she has found success while growing her business!
Congratulations to all of our new START 1000s and thank you for your incredible leadership, dedication to the community and willingness to serve!
START Leaders Recognized at 2018 Gala Awards
The 2018 Isagenix Gala Awards included recognition and live entertainment from some of Nashville's most talented entertainers! The event was hosted at Bridgestone Arena, where several START members were recipients of Isagenix recognition awards. Their success within the company serves as an excellent example of how young people continue to live beyond the status quo.
Congratulations to the following START age Gala Award Winners!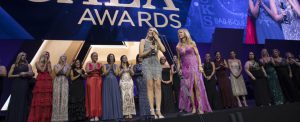 Shooting STAR Award
Alisha Fernandez, Amanda Fraser-Jones,  Chandra Briault,  Claudia Tomczyk, Dustin & Angie Christen, Emily & Hayden Vavra, Eric & Shannon Miller, Gabrielle Deane & Grant Pearce,  Jared & Sharaya Maples,  Kristin & Todd Cahill,  Mackenzie & John Arball,  Melissa & Kieran, Morgan Nelson,  Natalia & Jay Mulieri, Oliver Marshak, Rachel & Jeff Briscoe & Talia & Jordan Adams
Global Spirit of Isagenix Award
Atziry Gonzalez
Leader in Action Award
#8 Elle & Sam Martinette, #9 Kristin & Todd Cahill and #10 Gabrielle Deane & Grant Pearce
Top 5 Global Impact Award
#3 Gabrielle Deane and #4 Atziry Gonzalez
Top 3 Recruiters
#1 Erin Gray
Top 5 Momentum Award
#4 Mackenzie Blanchard-Arball
International Leader of the Year
Gabrielle Deane and Grant Pearce
Women of Isagenix
Mackenzie Blanchard-Arball & Gabrielle Deane
Woman of the Year
Laura Stevens
Man of the Year
Zach Slobin
Founder's Award
Jackson Parr
START Party 2018 at Wildhorse Saloon
START brought the party to Nashville on September 5th, 2018! Roughly 1,200 START members gathered at the world-famous Wildhorse Saloon for a night filled with line dancing, a local band and a live set from our very own DJ Skemaddox! The START party was an invite-only party for individuals who reached Executive rank and registered for Celebration by July 15th.
The START party is an excellent way to have fun with your team and network with new people! Don't miss out on your chance to qualify for the next event! Stay plugged in to the START social media accounts and newsletters for information about future events.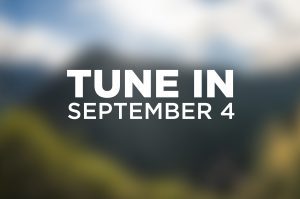 Something's Coming! Tune in September 4th!
At Global Celebration 2018, Erik announced that we have some BIG news to share…and trust us, you're not going to want to miss it!
Tune in to IsagenixLive.com/START on September 4, 2018 at 7:00 P.M. EST to hear about this once in a lifetime opportunity that's going to be revealed to START members all over the globe!
 Isagenix Launches Essence Essential Oil Line
In case you missed the BIG announcement from our Chief Executive Officer, Travis Ogden, we're so excited to announce Essence by Isagenix, our new line of essential oils! From plant-based protein to the unique properties of adaptogens, our scientists have worked hard in identifying, extracting, and enhancing the very best nature has to offer. In fact, compounds found in essential oils are already used in many of our existing products; expanding upon how we utilize them was only a matter of time.
Essence is simply a combination of our existing core strengths – science and nature shared in a way the world desires: honest and simple.
"Dough My Gosh" Protein Shake Recipe
Satisfy your sweet tooth with this guilt free treat! START Ambassador, Meredith Franklin, shared her recipe for a cookie dough protein shake that will keep you on track with your goals!
"Dough My Gosh" Recipe
For the cookie dough bites: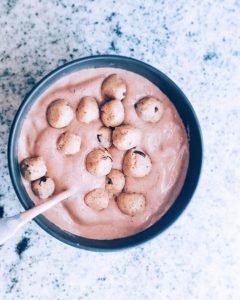 1 large spoonful of any nut butter (Meredith used crunchy unsalted almond butter)
1 scoop IsaLean™ PRO (Natural Vanilla or Natural Chocolate)
1.5 TBS Honey
Sprinkle in some chocolate chips
Directions: Roll the dough into very small round balls. 
For the protein shake:
8 Large Ice Cubes
1/2 Cup Cold Water
2 Scoops IsaLean™ PRO (Natural Vanilla or Natural Chocolate)
Directions: Blend ingredients together! If shake consistency is too thin, add additional ice cubes. Add the cookie dough bites to the blended shake and enjoy! 
Check out Isagenix.com for more recipes like this and additional information about Isagenix products!