Introducing the Updated START Logo
Last week, we proudly revealed our new START logo live during the Online University event. This new logo is designed with a mature, clean look to represent the overall purpose of the #startyourlife movement. We as START members strive to live a life of contribution and growth, and to do it on our own terms. We are a part of an incredible community of young people who share a common vision, and this new logo design is a great representation of this powerful movement.
2017 New Year Kick Off Details
START Give Back: START Joins Haven for Hope

This year, we are pleased to partner with Haven for Hope, a local organization that works on solving the root causes of homelessness, and while doing so, they provide and coordinate an efficient system of care for men, women and children experiencing homelessness. We look forward joining hands with other START members in attendance at NYKO in supporting this important cause.
Check Out the New START Social!

Exciting news for STARTers attending NYKO! You and all of your START Team members are invited to attend the first-ever START Social! This will be the perfect opportunity to mix and mingle with other START members, and build lasting friendships with other members of the START community. Stop by for a fun, relaxed environment complete with tunes mixed by the incredible DJ Skemaddox.
When: Friday, January 13 from 8 – 11 p.m.
Where: Stars of Night Ballroom, Henry B. Gonzalez Convention Center
Since this will be a relaxed, get-to-know-you type of event, suggested attire is upscale casual. We look forward to seeing you there!
START Magazine: Newest Edition Coming Soon!
One of our favorite times of year is the release of the newest edition of START Magazine! This incredible tool is packed full of inspiring stories of START members just like you who have achieved physical and financial success with Isagenix. The new version will be released at NYKO, and will be available to purchase. Keep an eye out for more details to come.
Vision Tour
We can't wait to announce the upcoming START Vision Tour onstage at NYKO! The START Vision Tour is the perfect event for new and prospective members to hear all about the Isagenix products and business opportunity, get an overview of the #startyourlife movement, and of course, experience our incredible Isagenix culture. Be on the lookout for all the info, including cities and dates, in future START Newsletters and on IsaFYI.com.
Stage Recognition
Be sure to watch the START stage segment during General Session on Saturday, January 14 and see who will be named the Top START Income Earners for NYKO! We will be recognizing the Top 10 in attendance in two age groups: 18-25 and 26-35. Come cheer on your fellow START members as they take the stage in front of thousands of excited Isagenix Associates.
Congratulations to the Top START Enrollers for November!
Huge shout-out to the Top 10 Enrollers in the START group for the month of November! These 10 businesses are dedicated to sharing the Isagenix products and systems with others, are we are so proud of them for helping bring new members into the Isagenix family.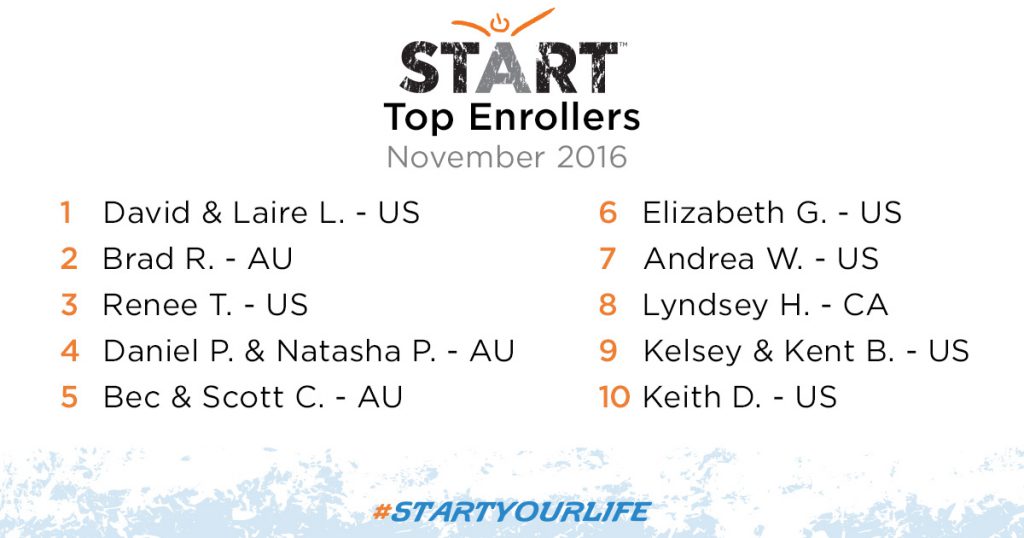 Keep sharing STARTers, we would love to see you recognized here in future months!
Newest START 1000s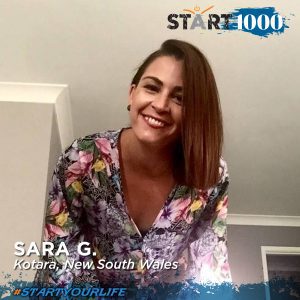 See a full list of our START 1000 here.
Upcoming Events
Zoom Calls
This exciting new series of Zoom Calls will start up again on Tuesday, January 17! Stay tuned to the announcements in the START Facebook Group for more details to come.
New Year Kick Off
January 12-14 – San Antonio, TX
Red & White Kick Off
February 23-25 – Toronto, ON
Follow Us on Snapchat & Instagram