START Leadership Retreat Winners Announced 
We can't believe it! The START Leadership Retreat promotion is officially over and the top 50 businesses have been announced! We want to thank everyone who participated in this promotion. We know that your hard work and dedication to growing your business will bring you great success.
Our winners will get to experience an adventure that they'll remember for the rest of their life in Cusco, Peru! In the land of ancient cities and renowned Inca ruins they will take an excursion to one of the new Seven Wonders of the World, Machu Picchu. During this once-in-a-lifetime opportunity, they will explore jaw-dropping views while fully immersing ourselves in local culture. Each day will be jam-packed with memorable excursions and learning opportunities.
Congratulations to our winners below!
1. Claudia Tomczyk
2. Maricarmen Armijo & Agustin Parada
3. Lara & Brycey
4. Cameron Biafore
5. Morgan Nelson
6. Dra. Brenda Gabilondo
7. Gabrielle Deane
8. Amanda Fraser-Jones
9. Tanis Heron
10. Jess & Eric Koehler
11. Rachel Pedretti
12. Erin Sherman
13. Wally & Meaghan Kamfolt
14. Lloyd and Alisha
15. Karla Espíndola
16. Feline Teh
17. James & Audrye McLeod
18. Melissa & Kieran
19. Chelsea & Lane Taylor
20. Natalia & Jay Mulieri
21. Elle and Sam Martinette
22. Anna & Morgan Richards
23. Melissa Langsford
24. Chandra Briault
25. Laura and John Stevens
26. Brendan de Salis & Dominique Macdonald
27. Abby & Dylan O'Neil
28. Jared + Sharaya Maples
29. Jackson & Kayla Baum
30. Heather & Jon Godfrey
31. Rhys Drake
32. Lindsay and Cory Hoffbuhr
33. Ashley and Daaron Mathews
34. Zac Deane
35. Carly Hewitt and Steve Pater
36. Chelsie Waite
37. Amy Otis
38. Jackson Parr
39. Sam Anderton & Hannah McRae
40. Adam Nesbitt & Bianca Bathurst
41. Tom & Ash Walden
42. Mackenzie and John Arball
44. Samantha LaCouture
45. Gillian & Pete Antinore
46. NICOLE ROBERTSON
47. Lauren Simms
48. Chelsea Lauren
49. Tyler Walter
50. Ali & Josh Gray
Results Not Resolutions Launches
The start of the new year often sets the stage for resolutions. However, here at Isagenix we are all about results not resolutions. From January 1-31,  new customers can get started on our program with the incredible guarantee below!
We're so confident in the results our Weight Loss Systems offer that we guarantee our Customers — who are looking to shed unwanted pounds and inches — will lose 10 pounds or more in their first 30 days. If they don't, they will receive the purchase price of the products back. As with our satisfaction guarantee, shipping costs and membership fees are nonrefundable.
Simply purchase a qualifying system, and go to the website ResultsNotResolutions to register by simply entering the email address associated with your Isagenix account. After registering, you will receive a series of weekly emails that contain tips, videos, recipes, and guided support from our nutrition experts.
"10 Reasons Why" Video Now Available
"Yea, but what makes your shakes different?"
We know you've heard this question over and over. That's why we've created a video that does the talking for you! Next time someone asks, just provide them with this video, available to download here: https://bit.ly/2A6oqR9
INSTAGRAM STORY: if you follow us on Instagram, you may have seen the video snippets we put out in our stories. Now, we're making them available for you to download and share to your own Instagram stories! ➡️ https://bit.ly/2SdYmuz
START Transformation Spotlight: Lydia
"…Guys, I can't make this up. This Isa life just gets better with time.
Keep going the course. I did not do this overnight, I have simply made good choices day in and day out. By doing this I broke some bad habits and created some good lifelong ones!
I started using Isagenix in July of 2017. I was a little over a year post-partum from having a C-section with my second child. I did not feel comfortable in my own skin, I was tired all the time and despite doing CrossFit for the previous 3 1/2 years and trying fad diets I was not seeing any changes in my body or overall health. I saw a post of a mom just like me posted by a friend, and told him I wanted to be her after photo. That woman gave me the courage to jump. If she could do it, so could I! I've officially lost 85 lbs. but I met my weight goal long ago. I chose not to set another one as feeling good was the most important thing to me. I am simply living a healthy lifestyle and have been on maintenance for half a year now. I continue to live out my new healthy habits day in and out."
Way to go Lydia! We love getting to celebrate your success alongside you!
We want to share your incredible transformations! Email us at STARTYourLife@Isagenixcorp.com
Salted Caramel Protein Balls Recipe
Protein balls are the perfect treat to give you some energy and are a great alternative to sugary sweets. Our Salted Caramel Protein Balls recipe uses Limited-Edition Salted Caramel IsaLean® Shake with each individual ball containing a whopping 7 grams of protein!
Feeling festive? Try adding a treat stick to the middle of each protein ball!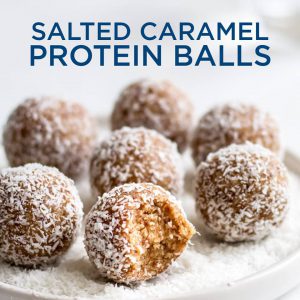 Salted Caramel Protein Balls Recipe
• 1 cup oatmeal
• ¾ cup coconut flakes
• ½ cup cashew butter
• 1/3 agave nectar
• 2 scoops Salted Caramel IsaLean® Shake
Directions:
• Combine all ingredients in a large bowl, and mix with a spoon.
• Roll mixture into balls or use a cookie scoop, and place on wax paper.
• Refrigerate for 30 minutes.
Enjoy!
Check out Isagenix.com for more recipes like this and additional information about Isagenix products!
 START Top Income Earners for November
Their hard work, consistency and commitment to changing lives earned these 20 businesses a spot at the top!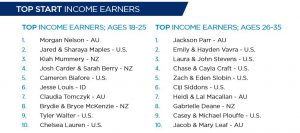 Save the Date
Events are key when it comes to forming valuable connections and growing your Isagenix business! Check out some of the events coming up below to find an event happening near you or online! For even more event opportunities and online training dates, head over to the Community tab on our website to find out more!