START Vision Tour is Back!
Join Us May 1-4 in a City Near You
The START Vision Tour is the perfect event for new and prospective members to hear all about the Isagenix products and business opportunity, get an overview of the #startyourlife movement, and of course, experience our unique and uplifting Isagenix culture. Be on the lookout for trainer details and your chance to register in the next START Monthly Newsletter, the START Facebook group, and IsagenixEvents.com.
Find out if the Vision Tour will be making a stop in a city near you by viewing this flyer.
Save the Date: Global Give Back Day

Global Give Back Day is the perfect time to join hands with your fellow START members from around the world by participating in something that benefits your community! One of the core What Drives Us values at Isagenix is Contribution, and this is your chance to put it into action.
As a START community, we recognize the importance of giving back anywhere we can, it's the root of what we stand for. So, join us for this global contribution event by organizing group Give Back events in your community, and inviting friends, family, and team members to participate with you! We can all make a huge impact by donating our time and efforts to support various causes in our areas.
Stay on the look-out for more details about resources to assist you in promoting your Give Back Day activities in upcoming START Newsletters and on the "Contributions" tab on StartYourLife.com.
Upcoming START Zoom Call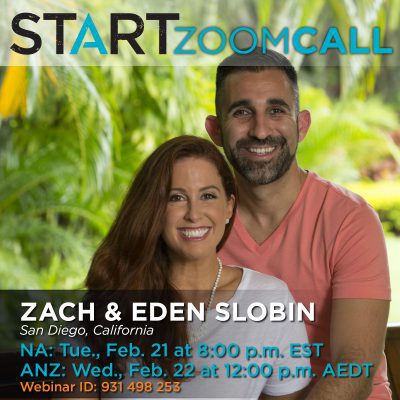 Check out the next START Zoom Call featuring two amazing START Ambassadors, Zach and Eden Slobin! Encourage your new and prospective team members to tune in live to this informative call all about the company vision, #startyourlife movement, product knowledge, and much more.
North America: Tuesday, February 21 at 8:00 p.m. EST
Australia and New Zealand: Wednesday, February 22 at 12:00 p.m. EST
Here's how to tune in:
Please click the link below to join the webinar:
https://zoom.us/j/931498253
Or iPhone one-tap (US Toll):  +16465588656,931498253# or +14086380968,931498253#
Or Telephone:
Dial: +1 646 558 8656 (US Toll) or +1 408 638 0968 (US Toll)
Webinar ID: 931 498 253
International numbers available: https://zoom.us/zoomconference?m=BSoHUnWVSVKtYrh6RcCL-D7c1PCfOLKF
Congratulations to the Top START Enrollers for January!
Check out the START Top 10 Enrollers for the month of January! Each of these businesses have shown incredible leadership, and have been rewarded with one of our favorite products as STARTers–a complimentary box of e+ Shots!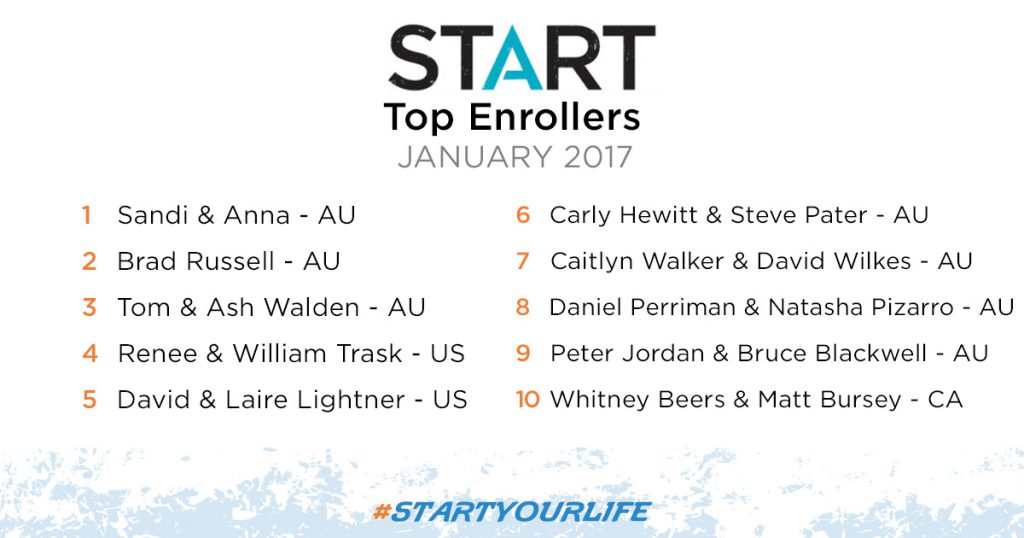 Keep sharing STARTers, we would love to see you recognized here in future months!
Newest START 1000s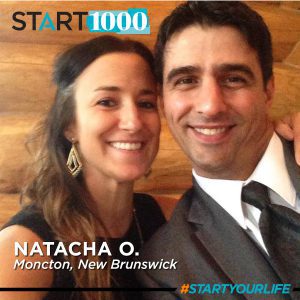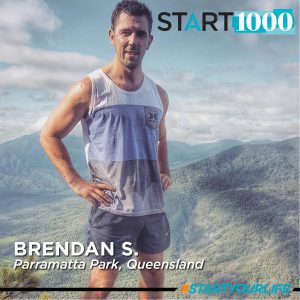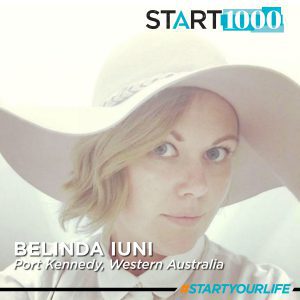 See a full list of the START 1000 here.
Upcoming Events
Zoom Calls
February 21 (February 22 ANZ)
March 14 (March 15 ANZ)
Red & White Kick Off
February 23-25 – Toronto, ON
ANZ Celebration 2017
March 9-12 – Brisbane, QLD
Isagenix University- Newark
March 30-April 1 – Newark, NJ
START Vision Tour
May 1-4 – Select cities
Follow Us on Snapchat & Instagram