Announcing New Monthly Facebook Community Challenges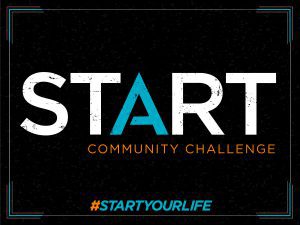 One of the most incredible things about START is the community. Nearly 70,000 START members – and growing- collaborate each and every day in the START Facebook Group, and we are excited to continue to promote this community atmosphere by introducing monthly Facebook Community Challenges.
These challenges will be open to all group members and will feature something different each month, from personal growth activities, group workout contests, business-building exercises and more. Whether you're brand new to the group or you're on your way to becoming the next START leader, these challenges will serve as a great way to interact with group members and help you grow throughout your product and business journey.
If you are not yet a member of the group, or have teammates who are not, please follow these steps: Request to join the group, answer the two pending member questions, allow 1-4 business days for approval*, and enjoy being a part of this amazing community!
Be on the lookout for the official kick-off for the March Community Contest next week in the START group!
*Please note: The START group is reserved for 18-35-year-old Isagenix Customers and Associates. If you or your teammates have not been added within 4 business days after requesting to join and answering the questions, please let us know by private messaging the 'Start You' admin.
STARTYourLife.com is Now Available in Spanish
Great news! To better support our global movement, STARTYourLife.com– the main hub for all things START- has added Spanish as a language preference! This is the first of many exciting additions to come that will assist in providing START tools and resources to our members worldwide.
Like its English counterpart, the Spanish version of the website features everything from the vision statement to physical transformations and a shareable success story video. In addition to the resources available on the website, Spanish-speakers can also join the START LATAM Facebook group to better connect with the community.
Check out these updates by visiting STARTYourLife.com and choosing Spanish in the "Select Language" bar on the right.
Congratulations to the START Top Income Earners for January
Their hard work, consistency, and commitment to changing lives has earned these 20 businesses a spot at the top.

Upcoming Isagenix Events
Celebration – ANZ
March 23-25
Brisbane, Queensland
Celebration – Canada
April 5-7
Vancouver, British Columbia
IsaU Philadelphia – U.S.
April 26-28
Philadelphia, Pennsylvania
START Events
START Give Back Experience, Australia Celebration
Friday, March 23 from 7:30-11:00 a.m.
Keep an eye out for more details to come on anz.isagenixevents.com.
START Give Back, Canada Celebration
Thursday, April 5 from 4:30-8:00 p.m.
Reserve your spot.
Global Give Back Day
Save the Date – May 19
More details to come!
For the latest and greatest details about upcoming START training, community efforts, and more, view the event calendar under the "Community" tab at STARTYourLife.com.
Follow Us on Instagram @start_yourlife
Use the hashtag #startyourlife on all of your posts for a chance to be featured on the official START Instagram!