START 1000 Leadership Series: The Men of START
On June 13, 2018 the START 1000 Leadership series debuted the first ever "The Men of START" Leadership call. Daniel Parten, Jared Maples, Morgan Nelson, Josh Carder and Jeremy Bales gathered together on a panel to share tips and tricks on how to grow and manage an Isagenix business through a man's perspective. The call answered member-based questions and spoke on imperative topics such as; systems, connecting 101, how to handle when people ask you "What do you do?", what to do when facing objection and more!
Parten did an incredible job moderating the leadership call. Each START 1000 leader brought a unique perspective to the call and gave insight to relate to business builders across the spectrum. Bales and Carder spoke that while their personality traits may be on the opposite sides of the spectrum, key techniques on how they connect with new members remain the same. The two re-enforced that brevity is key and that remaining authentic is a must when interacting with potential business builders. Maples elaborated on the importance of brevity by sharing how he builds curiosity through his social media and keeps initial interactions brief. Nelson also highlighted the importance of finding "hungry" people to join your team that share a similar passion to succeed.
Thank you to our five incredible leaders for hosting the leadership call, as well as everyone who tuned in to watch!
If you were unable to tune in, a recording of the Men of START leadership call can be found here!
 New Series, START Success Stories, Launches
A new START series made it's debut in June! START Success Stories features START members from all over the world who are finding success while building their Isagenix businesses. These member stories dive deeper into the lives of START members and emphasize the value START places on community. Orrin Benford was the first START member featured in the new series. To check out his story, click here!
Members who are featured in START Success Stories are also invited to take over the official START Instagram page! The takeovers allow each individual to elaborate on their Success Story as well as give fellow business builders a look into a day in their life.
If you are interested in having your START Success Story featured, or would like to nominate someone, please email us at STARTYourLife@Isagenixcorp.com
 Ask the Ambassador Debuts
START Ambassador, Meredith Franklin kicked off a new Facebook Live series on June 18, titled Ask the Ambassador. Franklin answered questions asked by START members in the Facebook group. The series will offer insightful advice from some of START's top leaders. Keep an eye out in the START Facebook group for details about the next Ask the Ambassador opportunity!
Missed out on Meredith's Ask the Ambassador segment? Click here to watch it!
June Community Challenge: Script Share
In June, we challenged START members to write their own script on how they were going to change their relationship with money. The challenge was  based off of Peta Kelly's Script Share segment at New Year Kick-Off 2018. Several START members ran with the challenge and shared their own personal scripts to the Facebook group. Jaclyn Powell was named this month's Community Challenge winner after sharing her inspiring script. Congratulations, Jaclyn!
Keep an eye out in the START Facebook Group for your chance to participate in July's Community Challenge!
 @START_YourLife Instagram Story Highlights

The @START_YourLife Instagram account is a great resource to use when building your business. Click on any of the Instagram Story Highlight icons located under our bio to view advice and updates from members of our START community!
The Instagram story highlights allow for valuable resources to remain on the page for longer than 24 hours.
Negativity Knock-Out Instagram Series
Have you ever faced opposition while growing your Isagenix business? Our newest Instagram series, Negativity Knock-Out, modeled after Jimmy Kimmel's famous "Mean Tweets" series, tackles negative comments START members have received. START leaders share the negative comments and  offer coaching advice on how to deal with them. START Ambassador, Kristie Shaver kick-started the series by explaining how she handles friends and family members who are quick to call Isagenix a pyramid scheme.
To check out Kristie's Negativity Knock-Out segment, visit the @START_YourLife Instagram page and click on the "Negativity KO" Instagram Highlight.
Isa-Ice Cream Sandwiches Recipe
Looking for a dessert that you can feel good about eating? Satisfy your sweet tooth with this simple recipe for Isa-Ice Cream Sandwiches!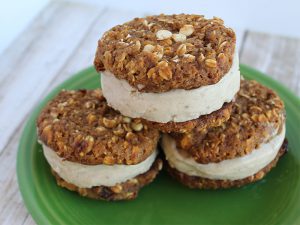 Isa-Ice Cream Sandwiches Recipe
1 scoop Creamy French Vanilla IsaLean® Shake
2 frozen bananas, sliced
1/4 cup milk of choice (we used almond milk)
4 Slim Cakes®
Directions: For ice cream: Blend all ingredients except Slim Cakes together and freeze in sealed container for 1-2 hours. Once ice cream is ready, put 1 scoop between two Slim Cakes and enjoy!
Check out Isagenix.com for more recipes like this and additional information about Isagenix products!
Newest START 1000 Members for June
START 1000 is an exclusive club of young Isagenix leaders ages 18-35 who are eligible to earn a six-figure residual income by maintaining the status of 3-Star Golden Circle & above. Congratulations to our newest members!

START Top Income Earners for May
Their hard work, consistency and commitment to changing lives earned these 20 businesses a spot at the top!