Happy 17th Birthday, Isagenix!
On March 23rd, Isagenix turned 17 years old!
This birthday celebration wasn't about us, though. Without you, we wouldn't be where we are today, celebrating successful transformations and changing lives all around the world. The hard work, dedication, and commitment we witness in your daily life — whether you're crushing it at the gym or building your business from the ground up — continue to inspire us every day.
To celebrate the special day, we also released Limited-Edition Birthday Cake Flavor IsaLean Shake! The sprinkles we use in the shake (which is currently sold-out) are made with colors from natural ingredients like purple sweet potatoes, spirulina, and red radishes. Most sprinkles out there are loaded with artificial colors and sweeteners. We want to make sure you get the best ingredients without losing out on any of the fun that sprinkles can add to any occasion!
Thank you for celebrating with us all month long!
Social Media Training with Taylor Smith
On Tuesday, March 26th, Taylor Smith went live in the START Facebook group for a training on social media!
During the half hour of training, Taylor taught on a variety of topics such as social presence, converting Facebook/Instagram followers to customers, sharing results and more!
Missed out on the live video? Check out a recording of the video here!
Be sure to keep an eye out in the START group on Facebook to find out when our next live training will be!
START Transformation Spotlight: Eric
"I spent my whole life fighting stereotypes as an Asian American. In grade school, I vividly remember telling my mom that I hated being Asian and that my life would be so much better if I was 'like all the other kids.' My way out was through competitive swimming. I swam in high school and was very blessed to swim four years in college. Swimming helped me develop a great physique, gain confidence, break through stereotypes, and create an identity that made me proud. After my collegiate career ended, I gained 31 pounds in two short months. My confidence was shattered. I was at an all-time low physically, mentally, and emotionally.
Today, 8 months into my Isagenix journey, I have lost all 31 pounds of unhealthy weight and packed on 5 pounds of lean muscle. Isagenix has helped me break the stereotype that I hated so much when I was younger. But, this time around, things are different. I no longer care about the stereotypes. Isagenix has allowed me to truly accept who I am, and embrace my heritage as an Asian American. For the first time in my life, I am proud of myself. Thank you, Isagenix, for helping me find my self-worth, improve my physique, and provide a community full of positivity in a world immersed in negativity. You have truly changed my life." -Eric C., Isagenix Customer
Results you can't get anywhere else™
#isagenix
Throw The Perfect At-Home Party
This month, START member, Courtney Hardy, shared her advice on how to host the perfect at-home party! Read her advice on how you can recreate it below:
"A few extra touches at a launch party goes a long way!
Create the space that makes you feel good about what you're creating!
I'm a foodie, a creative and love to put on a good event, no matter what the occasion.
Make the effort to put personal touches at your own events! They don't have to be expensive, just make them unique and make them YOU! 🌿🥂
For last nights event, I wanted a really earthy vibe to really emphasise the natural and holistic essence of Isagenix. 🌱
The leaves I picked from our garden. The wooden bowls we already had. The hummus was home made and quick and easy to do!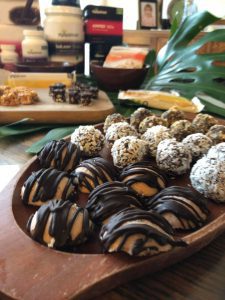 A couple of carrots and celery is inexpensive and leaves a great impression and adds freshness and cuts through the sweetness of the rest of the spread! (who am I kidding – everyone loves a good feed at any event!)
Made some bliss balls using our plant based chocolate shakes and some coconut bites using our isalean strawberry. (All isa recipes, with my own flare) 😘
I only cut up two flavours of bars and displayed the others – you don't need to have all the flavours available to your guests 🙂
Everyone had a glass of lemon lime hydrate on entry (mixed with soda water and served in flutes) 🥂
A little bit extra, goes a long way! Yes, I could have spent the time here inviting more guests, but instead I had a quality event, spent time understanding my guests and being able to leave a lasting impression on them!
The team did an outstanding job sharing and contributing to the evening and the energy was incredible! Nothing over the top here, just a little bit extra than my "normal" – and I felt much more satisfied with this result 😊 "
Way to go, Courtney!
Have you hosted an event recently? Share your pictures with us in the START Facebook group for your chance to be featured!
Dairy-Free Shake Recipes
Our plant-based IsaLean shakes can be transformed into new flavors just by adding a few ingredients! Check out just below: