Global Give Back Day
The third-annual Global Give Back Day was a massive success! START members from across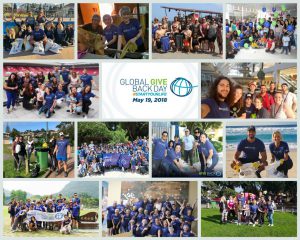 the globe gathered together in their local areas to give back to their community in a variety of ways. The man behind the START movement, Erik Coover recapped the essence behind Global Give Back Day by saying, "Global Give Back Day is special with everyone around the world linking arms doing acts of service…but it is really just about bringing awareness to how easy it is to give. The day after GGBD is when it really begins…there is never a better time to give our hearts, our time, our presence, our money, our service…there is no right or wrong way to give…but it's all about the intentions we have while we are in the act of giving".
Give back events across the globe included meal packing for kids in the Philippines, beach and park clean-ups, volunteering with the homeless youth, planting trees and more!
Alongside our START 1000 members, START Facebook members were challenged to lead their own Give Back events for May's Community Challenge. The corporate START Team received countless pictures, posts and videos from individuals that stepped up to the challenge. Rachel Briscoe won the community challenge after sharing about the trash clean-up event that she led at the University in Action event in Dallas, Texas! Briscoe said that the clean-up was a team effort and she was inspired by the amount of members who woke up early to join in on the efforts.
Thank you to everyone who participated in Global Give Back Day 2018! Your individual contributions and acts of servitude made a combined global difference!
Join the START Facebook group to participate in next month's Community Challenge!
START 1000 Leadership Call Series: Massive Action and Creating Momentum
On May 8, 2018 Rachel Briscoe, alongside START Ambassadors, Meredith Johnson Franklin, Mackenzie Blanchard Arball and Lynn Fitzys hosted a START 1000 Leadership Series Call on Massive Action and Creating Momentum. The inspiring call touched on subjects of self-awareness, consistency, growth and structure. The leaders offered insight into how massive action has played a big part in their success as well as what it looks like in their businesses.
Briscoe offered the following Self Awareness activity for other START members to use when it comes to evaluating their own standings:
Skills Ranked: (rank in order of what you feel most confident in, down to what freaks you out the most)
Presentation
Enrolments
Follow-up
Retention
Connecting
Flavor of Sabotage = ________(Procrastination, Negativity, etc.)
Beliefs: (rank out of 10)
Company=
Products=
Compensation Plan=
Network Marketing Industry=
Me=
Me Doing Network Marketing=
Get to work where you need the work!
If you missed out on May's START 1000 Leadership call, watch it online here! Tune in to the next START 1000 Leadership call which will feature some of the Men of START on June 13, 2018! Keep an eye out in the Facebook group for call details!
Newest START 1000 Members for May
START 1000 is an exclusive club of young Isagenix leaders ages 18-35 who are eligible to earn a six-figure residual income by maintaining the status of 3-Star Golden Circle & above. Congratulations to our newest members!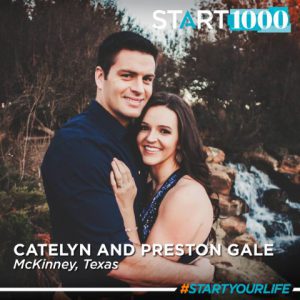 START Top Income Earners for April
Their hard work, consistency and commitment to changing lives earned these 20 businesses a spot at the top!

Piña Colada Returns for a Limited Time
One of our seasonal favorites is back for a limited time! The Piña Colada IsaLean™ Shake is the perfect summer beverage. Stock up on yours before they sell out*!
*Piña Colada IsaLean™ Shake is available only in US/CA. It is currently sold out in CA
Dress up your Piña Colada IsaLean™ shake with this tasty recipe:
Crazy for Coconuts Recipe
2 Scoops Piña Colada IsaLean™ Shake
1 tbsp. Unsweetened Shredded Coconut
1/2 Banana
1/2 Lime, juiced
8oz Water
Desired amount of ice
Directions: Blend and enjoy! 
Check out IsaFYI for more recipes like this and additional information about Piña Colada IsaLean™ Shakes!
Bed Time Belly Buster Tool Kit is Here
The wildly popular 14-day slimdown challenge has a new resource available! The Bed Time Belly Buster Tool Kit is your one stop shop for all information related to the bundle. Check out the digital version here.
START Party at Global Celebration 2018
Prepare yourself for a night filled with excitement during the START party at Celebration 2018! This year, the START Party will take place at the World-Famous Wildhorse Saloon in Nashville, TN. Remember, you must reach Executive in order to receive an invitation to the START party. We look forward to seeing you there!
START Party 2018
August 5, 2018
11:00 p.m.-2:00 a.m.
Wildhorse Saloon
START Give Back Event at Celebration 2018
Save the date and make your travel plans accordingly! On August 4, 2018 START will be hosting a give back event at GROW Enrichment in Nashville, TN! More details to come.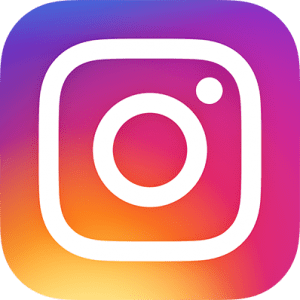 For the latest details about upcoming START training, community efforts and more, click here!
Follow Us on Instagram: @start_yourlife
Use the hashtag #STARTYourLife on all of your posts for a chance to be featured on the official START Instagram or STARTYourLife.com!