Qualify For the 2019 START Party!
START is bringing the party back to Nashville on August 11th, 2019 and we want to see you there!  START members from around the world will gather  at the world-famous Wildhorse Saloon for a night filled with line dancing, a local band and a live set from our very own DJ Skemaddox! The START party is an exclusive, invite-only party for individuals who reach Executive rank and register for Celebration by July 28th.
This year we will be awarding exclusive gear and additional START Party tickets to those who qualify at different ranks! For a full break down, please see below.
Here's how to qualify:
·Reach Executive by 7/28/19 and receive two tickets to the START party and a commemorative t-shirt*
·Hit 1-Star Golden Circle or 2-Star Golden Circle for the first time between 8/15/18-7/28/19 and receive three tickets to the START party and a commemorative t-shirt*
·Reach 3-Star Golden Circle by 7/28/19 and receive four tickets to the START party and a commemorative t-shirt*
*commemorative t-shirts will only be given to the individual(s) listed on the business account*
The START party is an excellent way to have fun with your team and network with new people! Don't miss out on your chance to qualify!
Leaderboards showing START Party 2019 Qualifiers will be available on StartYourLife.com starting June 10th!
5 Tips to Hosting an Incredible Sip & Sample
Sip & Samples are a great way to introduce the business and products to new customers, but they can also be intimidating to throw. We came up with five simple tips to help you host an event that everyone will enjoy!
1. Set the Mood: Diffuse Essence by Isagenix essential oils at your next sip & sample to create a calm environment that smells out of this world!
2. Send a digital invitation: You've set the date, now it's time to get people to your event! Send your friends a digital invitation through social media or text message letting them know that you would love to see them there! Need inspiration? Check out our invitation templates available to download at the bottom of this email!
3. Don't forget the snacks: Give your guests the opportunity to try the product! We suggest unleashing your creativity with this step. Some tips to consider: offer Hydrate in drink dispensers, cut up bars and place them on a tray with fruit, serve protein balls made using IsaLean Shake powder and swap snacks like chips for Harvest Thins or Whey thins!
4. Crank up those jams! Make the environment more inviting by creating an event playlist! Try to use fun, uplifting songs to set the mood of the room.
5. Designate a Welcoming Committee: It's so important that you make each guest feel welcomed and valued when they attend your event! Designate an individual to welcome each guest and thank them for coming.
New START Weekly Wednesday Training
On Wednesday, May 22nd, START 1000 member Rhys Drake held a Facebook live on Collaboration, sharing stories and the importance of events. Their training hit on how to incorporate a 3-step system when it comes to building your business, as well as the importance of approaching people authentically and helping them reach their goals.
In addition to hitting START 1000, Rhys was a 2019 START Leadership Retreat winner and traveled with 49 other START Leaders from around the world to Cusco, Peru in April!
View his full training here!
What's In Your e+™?
Get the energy you need from a product made with natural herbs and botanicals you can feel good about. No crashes, excess sugar or harmful ingredients here! 🙅‍♀️
e+™ Energy Shot, a flavorful energy shot with naturally sourced caffeine and adaptogens, boosts energy without the negative side effects associated with other highly caffeinated supplements. With only 35 calories per serving and no artificial colors, sweeteners, or flavors, e+ is designed to support long-lasting energy and performance with plant-based caffeine and adaptogens.
He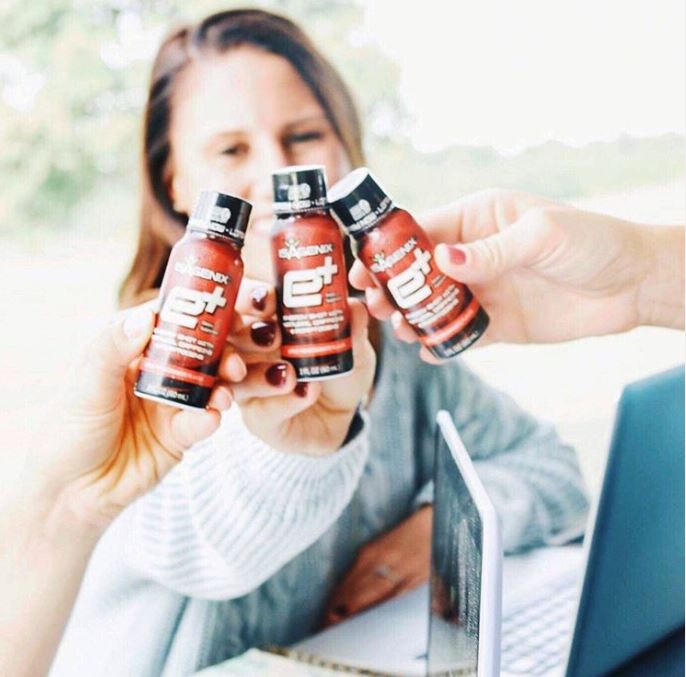 re's a break down of what's in e+ and how it works to give you that healthy boost of energy:
❤️ Yerba Mate: Supports heart health and offers antioxidant protection
❤️ Green Tea: Improves calorie- and fat-burning potential and increases antioxidant status
❤️ Eleuthero: Boosts endurance by supporting cardiovascular functions and oxygen uptake
❤️ Rhodiola: Increases energy, reduces fatigue, and helps maintain cognitive function
❤️ Hawthorn Berry: Mediates the physiological and psychological stress response in the body
 START Top Income Earners for April
Their hard work, consistency and commitment to changing lives earned these 30 businesses a spot at the top!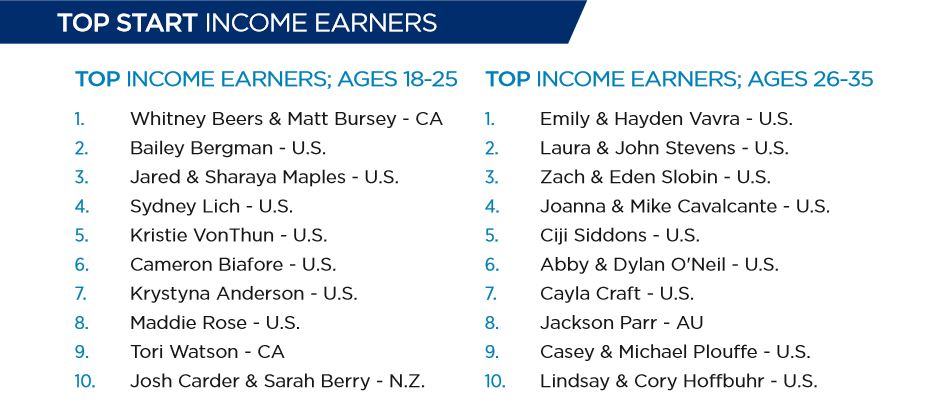 Newest START 1000 Members for May
START 1000 is an exclusive club of young Isagenix leaders ages 18-35 who are eligible to earn a six-figure residual income by maintaining the status of 3-Star Golden Circle & above. Congratulations to our newest members!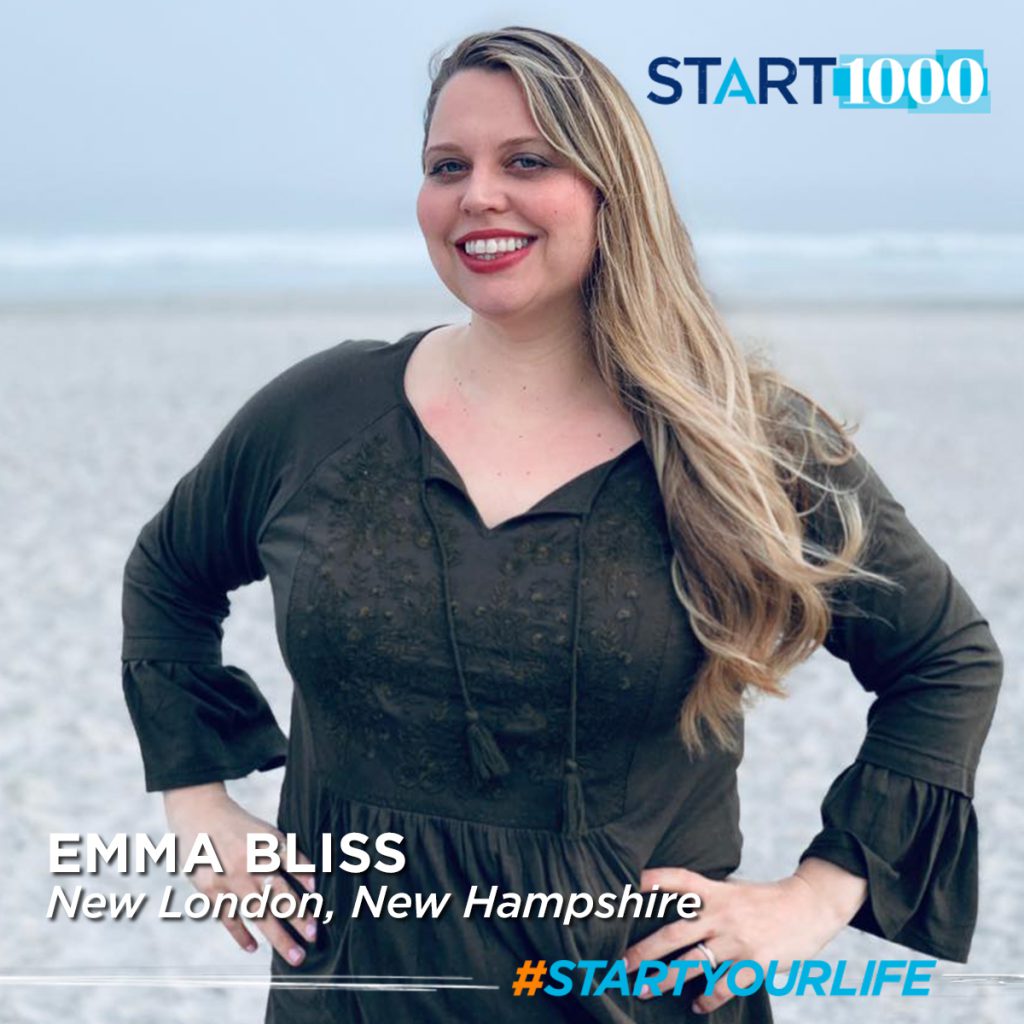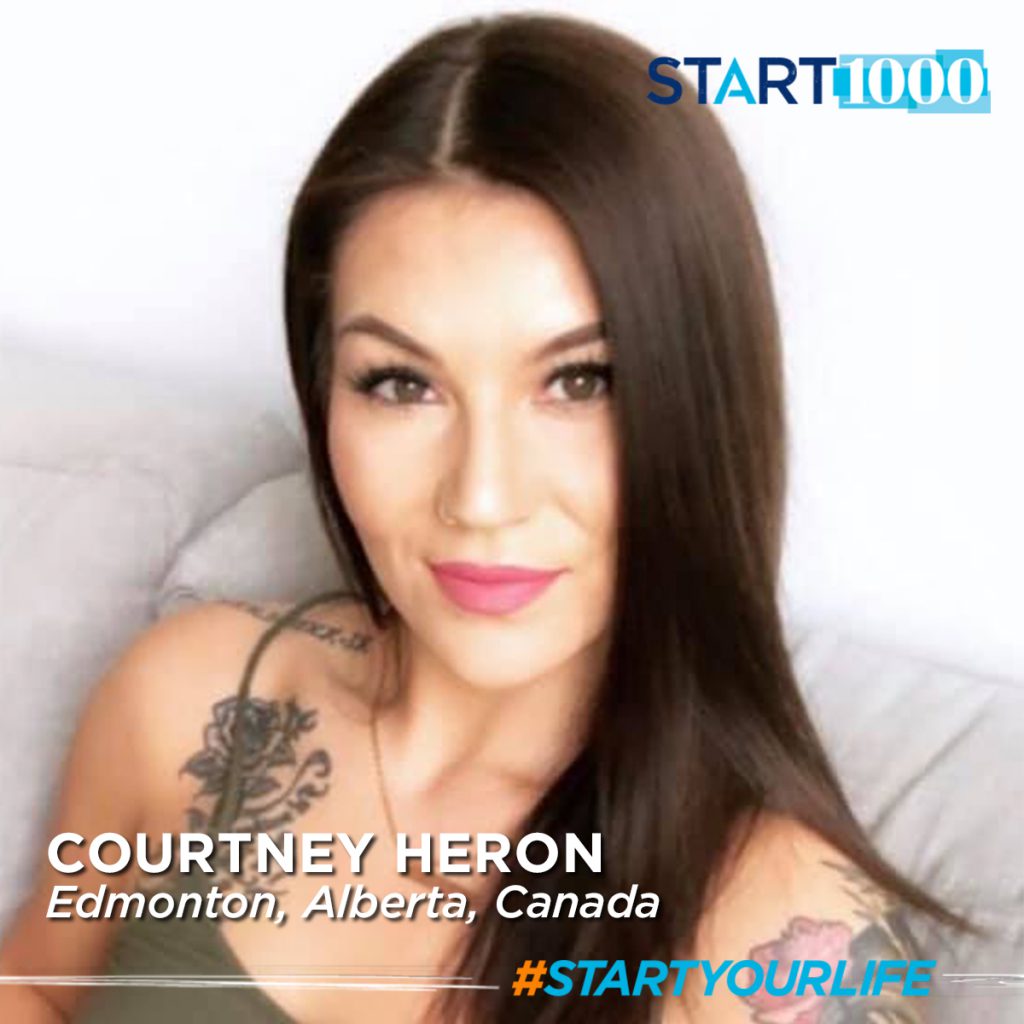 Save the Date
Events are key when it comes to forming valuable connections and growing your Isagenix business! Check out some of the events coming up below to find an event happening near you or online! For even more event opportunities and online training dates, head over to the Community tab on our website to find out more!
August 10-13, 2019
Nashville, TN
Give Back Event @ Global Celebration
August 10th, 2019
Where: TBD
When: TBD
START Social Hour @ Global Celebration
August 10th, 2019
Where: TBD
When: Immediately following the START Give Back (Time TBD)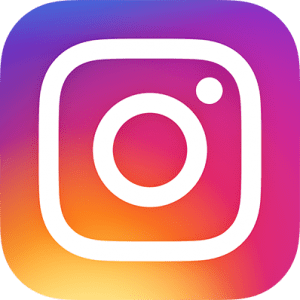 For the latest details about upcoming START training, community efforts and more, click here!
Follow Us on Instagram: @start_yourlife
Use the hashtag #STARTYourLife on all of your posts for a chance to be featured on the official START Instagram or STARTYourLife.com!