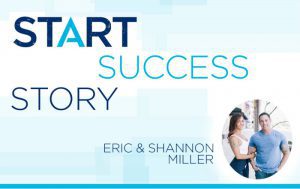 Eric and Shannon Miller recently became START 1000 leaders while growing their Isagenix business in Las Vegas, Nevada. We reached out to them and asked them to share their story and how they created a successful business.
How did you get started with Isagenix?
When we were introduced to Isagenix in July 2016, Eric and I were at our lowest point. We had launched our own weight loss business that quickly began to own us. We worked tirelessly to build the business, bring clients in, pay back our original investment, and care for our clients to ensure they had the best results. It felt as if we were drowning between the money flowing out and becoming a crutch for our clients rather than empowering them.
We learned about Isagenix from Zach and Eden Slobin and decided it was worth giving the products a shot. Worst-case scenario, we would use the 30-Day Satisfaction Guarantee. I began the system before Eric, and I started to experience more energy, mental clarity, and the ease of the day to day, and I realized we had something special.* We began introducing it to others, and it was like watching people come to life! We couldn't help but share it with everyone! After having amazing success with the opportunity, Eric and I decided to shut down our previous business to focus our efforts on our Isagenix business instead.** Isagenix gave us the opportunity to make a massive impact versus the smaller reach we had in the Las Vegas valley. It also gave us the opportunity for growth beyond anything we ever dreamed possible. Over the past six months, Isagenix has been our primary income, allowing me to work from home full time and Eric part time in a medical office.** There isn't a moment that goes by I am not grateful for the time with my family and possibilities we now have.
How do you find success?
Success is a continuous journey and our goals change as our business does! When we began sharing Isagenix we had no network marketing background at all. The whole idea of the business model was a little hard to grasp at first. The biggest tool we found was the willingness to get uncomfortable and be open to trying new ways and ideas. Leadership within our team has been life changing, and having Zach and Eden Slobin by our sides as mentors, friends, and family has been a blessing. Eric and I quickly realized that for us and our team to be successful, we have to develop ourselves. Leaders go first and serve as examples. Physically being in that environment is so much more impactful than just reading books alone. Eric and I also make sure each morning to set aside time to read, journal, meditate, listen to a podcast, etc. to set our intention and attitude for the day. Each day is different because we get to build around our life and family! There is daily action in income-producing activities, so there is no getting lost in the social media scroll! It is so important to consistently make new connections both in person and on social media, reach out to build relationships, connect with our team, support our team with training and resources, continue to follow up with prospects, and always keep a list to make sure nothing gets lost in between. Eric and I don't believe there is just one thing that creates success in this business, but it is in the small steps that lead to big changes! You just need to choose how quickly you take those steps.
What is one key thing that you have had to learn to grow your business?
One key to growing your business is something Zach and Eden Slobin taught us: Learn to fall in love with network marketing! Take the time to truly understand this business and catch the vision for what it can create for your life! Treat the business like a profession, and allow yourself the time to become an expert and have fun along the way.
How does it feel to be a part of the START community?
This is a direct reflection of a new generation of people taking charge of their lives in ALL ways possible. We get to be the men and women creating legacies for our families, a lifetime of opportunity, and success beyond traditional concepts, like investing our life savings to hopefully build a successful business. Our children get to experience not needing to follow the paths of the generations before unless they want to. It is an honor to be recognized as one of these people being the change!
To meet more incredible people like Eric & Shannon, follow our Instagram or join the START Facebook group!
Want to suggest a START member for a Success Story highlight? Email: STARTYourLife@Isagenixcorp.com
*Weight loss, muscle gain, lifestyle, and other results depicted here reflect exceptional individual experiences of Isagenix Customers and should not be construed as typical or average. Results vary with individual effort, body composition, eating patterns, time, exercise, and other factors, such as genetic and physiological makeup.
**Earning levels or income statements (including claims such as the ability to quit a job or stay at home or portrayals of luxury lifestyles) for the Isagenix Independent Associates discussed here exceed the average results achieved by all Associates during the same time period, are not necessarily representative of the success or compensation that any particular Associate will receive, and should not be construed as typical or average. The ability to earn income under the Isagenix Compensation Plan depends on many factors including an individual Associate's business, social, and sales skills; personal ambition and activity; availability of time and financial resources; and access to a large network of family, friends, and business contacts. Isagenix cannot and does not guarantee any particular level of earnings. Even Associates who dedicate a significant amount of time, effort, and personal funds may not achieve a meaningful level of success. For average earnings, refer to IsagenixEarnings.com.