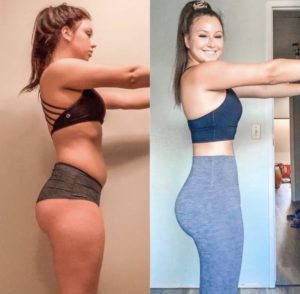 I started using this nutrition system in November 2019 and before then I couldn't get the full results I wanted. My goal was to just feel and look better, I would take a nap every single day cause I didn't have enough energy to even keep my eyes open and I knew at the age of 22/23 that wasn't normal. Not to mention it was physically, emotionally and mentally draining. I was desperate for proper nutrition, I was killing myself in the gym and not see any progress in my before and afters!
This sustainable system sort of fell into my lap and I am FOREVER grateful. Simple to follow (which is what I needed) Easy to maintain and not to mention just the taste is delicious cause I am SUPER picky. The results speak for themselves, I am incredibly grateful to have these products in my daily life!
Instagram: @baileydawn05
*Weight loss should not be considered typical. A study showed an average weight loss of 24 pounds after 12 weeks. Participants took part in a calorie-controlled regimen of Shake Days and one Cleanse Day per week. For more information on the study, see IsagenixHealth.net.