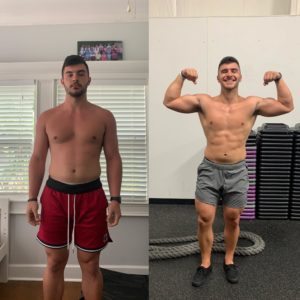 I was probably at my worst spot physically in years and had no motivation to improve my life and health at all. Then I saw the picture on the left. There is only a 2-3 month difference between these pictures. On the right, you see a guy who finally trusted the products, the system and what they could do for my life. I'm forever grateful for this company and what it's not only done for me but allowed me to do for others.
Instagram: @cadenpaquette
*Weight loss should not be considered typical. A study showed an average weight loss of 24 pounds after 12 weeks. Participants took part in a calorie-controlled regimen of Shake Days and one Cleanse Day per week. For more information on the study, see IsagenixHealth.net.