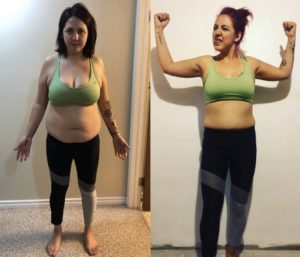 It's hard to believe that not even 11 months ago, I was 40lbs heavier. But let's talk about the real transformation here: The girl on the left was anxious, depressed, self conscious, timid, hopeless, hurting and…. the list was full of negative words. The girl on the right controls her aniexty and depression through fitness. She is comfortable, confident, hopeful, healing and… the list goes on full of positive words. I am proud that after YEARS of weight loss and gain yo-yo's, I finally lost the weight but the real reward is how great my body feels on the inside. You can't put a price on that. 2019 me wouldn't even recognize 2020 me.
Instagram: @mintzcondition
*Weight loss should not be considered typical. A study showed an average weight loss of 24 pounds after 12 weeks. Participants took part in a calorie-controlled regimen of Shake Days and one Cleanse Day per week. For more information on the study, see IsagenixHealth.net.