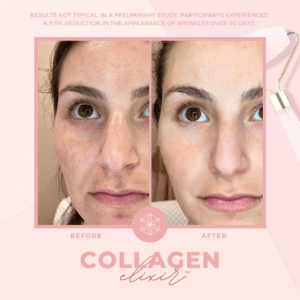 I have done nothing different as far as my normal skincare regimen and nutrition besides adding this delicious shot of marine collagen elixir to my routine (I have been doubling dosing as it's recommended in the beginning for the best results!)
I am currently 31 weeks pregnant and usually my dreaded pregnancy brown spots are at IT'S WORST! But here we are with the most even complexion I've ever had, dark circles gone, pores shrunk, smile lines softened, skin hydrated, tighter and glowy, blemishes faded! I'm just in complete shock!
Instagram: @nataliamulieri
*Individual results may vary. Statistics are based on a survey of 113 participants who used Isagenix Collagen Elixir™ consecutively for 30 days without cosmetic intervention or other known changes to their regular skincare products. The survey participants included Isagenix Independent Associates, who are eligible to earn a commission for sales of Isagenix products.