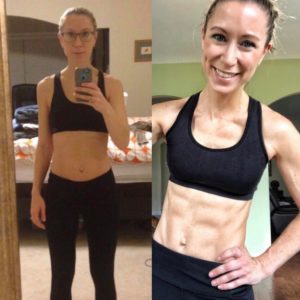 When I first ordered Isagenix, I said I would never have a "before and after" to show. I was doing it for the energy, not the weight loss. But 4+ years later, I continue to prove myself wrong. In these last 4 years I've used Isagenix to lose weight, gain weight, maintain my weight, build muscle, fuel a healthy (3rd) pregnancy and nourish a postpartum body while breastfeeding. The weekly income I earn to help others do the same is just the icing on the cake. To say I'm thankful is an understatement.
Instagram: @tiff_fit_13
*Weight loss should not be considered typical. A study showed an average weight loss of 24 pounds after 12 weeks. Participants took part in a calorie-controlled regimen of Shake Days and one Cleanse Day per week. For more information on the study, see IsagenixHealth.net.